SDCC14: Walter Simonson One of the People that Makes it All Worthwhile
Walter Simonson, One of the People that Makes it All Worthwhile
Some of you may be aware of my shock and joy as a result of an opportunity to take somebody's photo tonight right before the end of Comic-Con International for another year.  Your wait is over as to what that was all about. I couldn't wait to go through all the photos before getting to this, so jumped to those I took of Walter Simonson today.
Having spotted Walter Simonson standing near the Ragnarök signage at the IDW Publishing booth today shortly before the end of the show I decided it was to good an opportunity to pass up. Waiting patiently and hopefully looking fairly non-chalant about it, I waited for him to finish his conversation before approaching and asking if I could take his photo with the signage for his new book. He looked happy and stated that nobody had asked to do that. Walking over to the sign, he flipped his badge out of the way as he was wearing a Ragnarök designed t-shirt and wanted the badge out of the way of the art.
Once the photos were done, we chatted for a moment or two about having met him last year. Always surprises me when they remember me and comment on the photo(s) that I took. Those happened to have been of him and Marc Silvestri from when he came over to the Top Cow booth last year to say hi to Marc.
It's moment such as these that always blow me away not only as a photographer and a fan-girl (not ashamed to admit it) but as a person in general. They make all the aches and pains that are acquired while covering a show such as #SDCC worth it. (Yes I have lots of aches and pains from the past few days)  It's this kind of warmth and geniuness that makes me gravitate toward certain people.  There are so many that just want to be in front of the camera to be seen, but to have a reaction and evident pleasure that Walter displayed. To take the time to chat and even to recall the prior meeting.  That makes you feel a bit more special than when they just take it for granted that the press is there to give them exposure.  Thank you Walter, you have no idea how much your happiness at the suggestion meant.  Hope you had a wonderful show and see you next year.
I couldn't choose between these two images so you get to enjoy them both.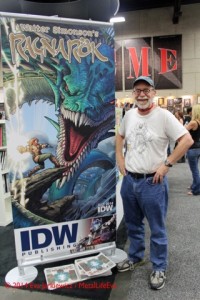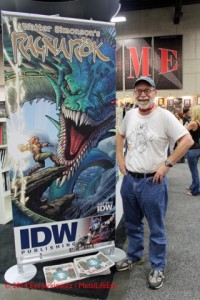 Reprinted with permission from GoGeekGirl