SDCC14: Two Second Recap on Preview Night of Comic-Con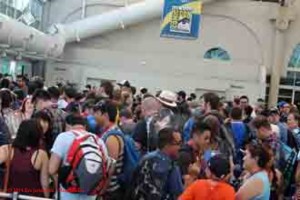 San Diego Comic-Con has been an insane blur in the best of ways this year.  My schedule is full, but I am still managing to take a few minutes to relax and chat with old friends and make some new ones.  But all of this rush has also left me with little to no time to post updates throughout the Con as has been done in other cons.  Every year I forget during the intervening twelve months just how much bigger, busier, hotter, more crowded this con is than the others that I cover.  But every year after a few hours I have scoped out through necessity those few remaining alcoves of peace.  But enough the WOW it is so big and crowded.
As in other years Preview Night for me is more of my social evening.  It is the night to run around and say hi to friends made over the years and collect hugs.  It is the best day for hugs as people aren't quite as tired and sore yet and they are the happy hugs because we haven't seen each other sometimes for a year. Sunday hugs are the sad hugs, they are the goodbye hugs and the I can't believe I won't see you for months or a year.
As has become my tradition my first stop was Broadsword Comics to see Jim and Holly and Shara and Natasha.  Collect hugs from all of them, catch up briefly between people stopping to shop and get things signed or sketches.
Next up was a newer tradition for my, Billy Tucci's booth but this year 2nd stop was a bust as he was off with the boys as they did a little of their shopping, but no worries there are still a few hours to make that stop on Preview Night.  Now to wander down to say high at some of the larger comic book companies.
Raven Gregory isn't at Con this year so nobody at Zenescope that I interact with much on line even so will swing by their booth at sometime during con.  Next up are Dark Horse, Boom Studios and IDW.
Boom! Studios was already hopping when I got there and Mel wasn't around at the moment.  Chatted with one of the guys for a moment and then moved on so that those shopping could get in.  IDW I had better luck as Dirk was there and we managed to actually exchange a few words before business called him away.  I don't think I have been at a con where I didn't see him constantly in demand, on the move or just plain old insanely busy.  But that is also a good sign for how the company is doing as the booth is always very busy.
Marvel I am still trying to find where they have Ryan hidden away this year so I can just say hi.  Doubt I will have much luck trying to score a Rocket Raccoon there as the booth as always is, you guessed it, insanely busy.  And how is across the aisle from Marvel?  Just one of my favorite companies and group of people… Top Cow.  Now you don't think I would miss saying hi there do you?  Am having a blast with this crew as in years past.  But I will save a lot of those stories for later as I still have ground to cover and must be out the door shortly to get back to the madhouse.
The next visit was actually funny.  I had just mentioned to one of my friends at Top Cow that I need to get over to Dark Horse to say hi to Aub when I look up and see him chatting with somebody at the corner of their booth which is just across an aisle from Top Cow (Love that so many of the ones I stop at to see people I know and how business is going are all in the same block of aisles)  Waited for him to finish his conversation and on to collect a hug and a quick chat.  Funny that after having a really hard time meeting him 2 years ago at WonderCon I now seem to have the easiest time in the world finding him even though he is another of the super busy men there.  Always on the go, always trying to wrangle the talent that they are having at the booth or panels.  Always in demand.  But another of the very cool guys there (not all the people at con get the 'very cool' or 'awesome' or even 'nice' tags there are some you want to roll your eyes at and tell them to get over themselves).
The next stop is a push through the crowds and a bit of a hike but on the way I stumpled upon the Peavey Guitars in the Star Wars pavilion and managed to not only get some pics of the Star Wars designs on their guitars but to chat with one of the guys in the booth.  Seems like I may have found another booth where the 'nice' guys tag applies.  They not only let me get some good shots, even invited me to come behind the table to get a better angle on the guitars and took one down and posed with it so I could get the shot I wanted. I know I will be talking more about Peavey later as there are other guitars of theirs at SDCC that I haven't seen yet.
Finally made it to the last of the 'tradition' stops, Monte M Moore.  Fortunately I got there during a lull so was able to chat with him for a few, after collecting a hug of course.  Always love seeing Monte as I fell in love with his art years ago. And am still thrilled that his art graces my site as the logo.
There is much more and I haven't even gotten to Thursday yet but guess what?  I am out of time.  I need to get prepped and out the door as today starts out with an interview that I can't wait to tell you guys all about.  But I won't be able to do that if I keep rambling about all the little moments of the past day and a half.  So you have most of the half, I owe you the day and will have more after today of course.
If you are at SDCC look for me and say hi.  Would love to meet more of the people that I know from online and even those that read my material that I may not even know. Today should be a Nightcrawler t-shirt and jeans and the camera backpack and camera in hand in case you are looking for clues.  Most likely place to find me when I am not flying around is of course around Top Cow.
Oh and don't worry, there will be plenty of photos coming.